The Lantra Land based Learner Awards celebrate the talents of Wales' top environmental and land-based individuals and businesses, and recognise the initiative, skills and enthusiasm of individuals pursuing careers within the environmental and land-based sector.
Tyfu Cymru's Training Award recognises the top horticulture businesses in Wales for outstanding commitment to Continuous Professional Development. Tyfu Cymru is a project managed by Lantra, and with funding from the Welsh Government Cooperation and Supply Chain Development scheme which is funded by the European Agricultural Fund for Rural Development and the Welsh Government. offering 100% funded support for training and development for the Horticulture Industry.
Winner of the award, Derwen Garden Centre, is one of the finest independent garden centres in the country and is owned and run by the Joseph family. They are able to supply a diverse range of plants and proudly promote advice from their knowledgeable staff.
Derwen Garden Centre's nomination for the Tyfu Cymru Training Award is an accolade to their ongoing commitment to their engagement with the support that Tyfu Cymru offers, through training, advice and other forms of continuous professional development.
Jerry Joseph-Meade – Derwen Garden Centre said: "'We were so thrilled to win the Tyfu Cymru award. In truth it feels like we should be the ones giving them an award! The support they've given us has been invaluable, from training our staff to guiding the way on our drive to become more sustainable. Also the team have always been available to offer their expert advice and knowledge.'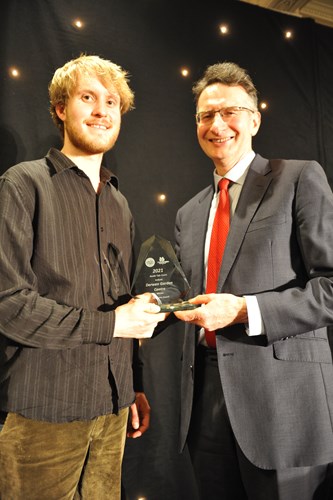 Image: Jerry Joseph-Meade, Derwen Garden Centre with Kevin Thomas, Lantra Wales
Runner up, Vale Pick your Own, is run by Rob and Rachel Saunders in the Vale of Glamorgan. Following a wet winter in 2019 along with poor returns on their beef cattle enterprise, the couple diversified into soft fruit and pumpkin picking. Watch Vale Pick Your Owns Diversification Story here.
Through their commitment to continuous professional development with the opportunities provided by Tyfu Cymru the farm has become a great attraction for family days out.
Rachel Saunders, Vale PYO said: "We have absolutely no doubt that the initial advice we received from Tyfu Cymru spurred us on to setting up Vale Pick Your Own and combined with all the additional help and courses provided along the way, we've found the Tyfu Cymru services invaluable to our business. We are so honoured to be shortlisted for this award and although we finished as runners up it has given us the confidence to continue expanding our business for the future."
Hear from Derwen Garden Centre and Vale Pick Your Own in this video.
Nominees for the award also included:
Ali's Edibles | Llanmaes, Vale of Glamorgan
Ali's Edibles is a market garden in the village of Llanmaes, Vale of Glamorgan.
Boverton Nurseries Ltd | Llantwit Major, Vale of Glamorgan
Boverton Nurseries Ltd is a long-established family business that specialises in Spring/Summer bedding plants that are grown specifically to requirements for local authorities.
Claire Austin Hardy Plants | Newtown, Powys
Claire Austin Hardy Plants is a high-quality specialist nursery providing the opportunity to order plants by mail order or online.
Springfields Fresh Produce (Manorbier) Ltd | Tenby, Pembrokeshire
Springfields is run by Nick and Pat Bean where for many years they have been growing top quality strawberries, daffodils and asparagus in Pembrokeshire.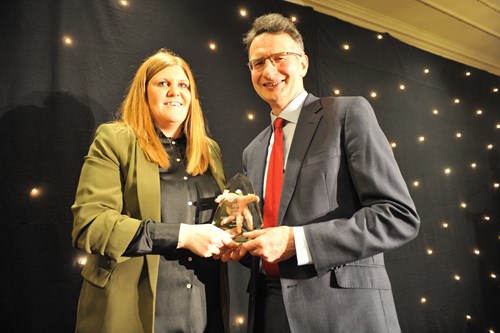 Image: Rachel Saunders, Vale PYO with Kevin Thomas, Lantra Wales
Sarah Gould, Tyfu Cymru Project Manager commented, "We would like to congratulate the winner, the runner up and all the nominees of the Tyfu Cymru award. These growers, not only make a significant contribution to the horticulture industry in Wales, but they have also shown outstanding dedication to growing the industry through enabling and encouraging their team to attend specialist training and development, with the aim of reducing the skills gap currently faced by the industry. We were pleased to recognise this through the Tyfu Cymru award."
Derwen Garden Centre are among 330 grower enterprises who have received support from Tyfu Cymru. The programme, has now delivered over 1,000 fully funded training days, with over 2,000 participants, and established 34 grower networks which focus on providing opportunities for growers to work together to overcome common issues.
Sarah Gould added, "The horticulture industry in Wales has demonstrated its resilience and ability to quickly adapt to changing circumstances. Our aim is to support Welsh growers in overcoming these obstacles and ensuring they are in prime position to benefit from opportunities as they arise. Whether that be through technical advice to improve the yields from crops, guidance on new growing techniques or training on digital marketing."
Tyfu Cymru is able to provide 100% funded support to eligible horticulture businesses in Wales through the provision of 1:1 support, access to networks, study tours, group training and other means of aiding the development of industrial knowledge, skills and processes.