For more than a century people around the world have been marking 8 March as a special day for women. International Women's Day is a global day celebrating the social, economic, cultural, and political achievements of women. 
We feature some of the inspirational Women in Welsh Horticulture this International Women's Day!
Kate Mortimer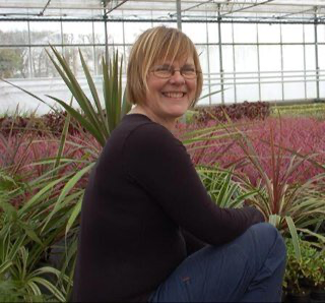 New Products Manager, Seiont Nurseries LTD (www.seiontnurseries.com)
"I originally worked in horticulture as a teenager, propagating conifers and heathers. After following a different career for fifteen years, I returned to my real passion and studied for my RHS certificates by distance learning and attending as many practical study days as I could fit in. I've now worked at Seiont Nurseries for seventeen years and worked in a number of areas of the business: crop protection, general production, propagation and plant sales. I'd encourage women to consider a career in production horticulture, it's more varied than you might think. Now, I specialise in building up new varieties ready for full production, something the business is known for.  It's so satisfying seeing plants that I propagated in the garden centres!"
Debbie Handley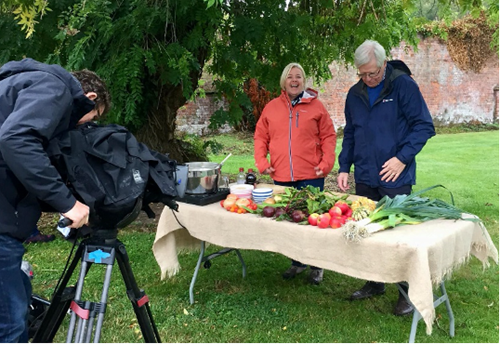 Joint Owner, Mostyn Kitchen Garden (www.mostynkitchengarden.co.uk)
"From 2007 to 2016 I managed the Community Food Cooperative Programme across Wales, a Welsh Government funded project shortening supply chains by linking community groups with fruit and veg growers, supporting the 5 a day message.
From there, in 2013 I moved to Mostyn Kitchen Garden with my husband Philip, who's a horticulturalist. I started making jams and chutneys to use up gluts of fruit and veg and with support from Cywain in 2015, the Mostyn Kitchen Garden brand was born. We now have around 20 local stockists including farm shops, delis and tourism providers. In 2017 we were lucky enough to be featured in Countryfile's Autumn Special programme on BBC1 (see photo).
I have worked with Tyfu Cymru developing and facilitating some of their grower networks and I also work with Farming Connect as their Horticulture Technical Officer covering North Wales.
It's a privilege to be able to inspire, motivate and encourage other women to work in the sector. The pandemic has demonstrated the public desire for locally sourced products and the opportunities to develop Welsh horticulture are out there, along with the support, particularly for women starting in or returning to agriculture following having a family."
Lisa Howarth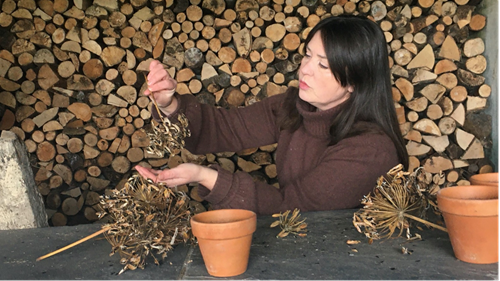 Founder, ORTIR APOTHECARI
Lisa Howarth is the founder of ORTIR APOTHECARI, a niche perfume house based in West Wales, where she grows and distils key ingredients for her unique fragrance compositions. Her approach to creating perfumes is rooted deep in the Welsh landscape where she has lived for almost a decade.
Every stage of production takes place on the farm, from managing the aromatic crop fields, harvesting of the plants, through to the process of distillation to extract the precious oils, which ultimately form the basis of the perfume.
"Growing the aromatics here on the farm, I benefit from knowing the conditions they have experienced and can control the timing of the harvesting. This is really important because it affects how the distilled oils behave."
Created with a strong sense of provenance, ORTIR perfumes are not single note but complex compositions where the original material is not instantly recognisable but sits at the heart of the perfume.
When I decided to grow the ingredients for my perfumes I was offered lots of well-meant advice. Mostly that I would never manage to get anything to grow here – the land around here is predominantly used for grazing and being right on the coast it can get really wild and windy.
Determined to prove them wrong I now look out of my window at acres of lavender and am so excited to be growing some amazing crops over in the terrace fields.
So, my advice is to trust in yourself, do your research, listen to local advice. But just because something hasn't been done before, doesn't mean that it can't be done.
Just expect to get your hands very dirty".
Lynne Dibley
Dibleys Nurseries (www.dibleys.com) 
"I did a degree in 3D-Design in Brighton University and after qualifying I gradually became involved in my family's nursery business. Although I fell into horticulture, I have always loved plants and working with them.
Find your passion and learn from those who share the passion – most people working in horticulture are great people, always helpful and willing to share their experiences.
The overriding favourite part of my work is breeding new plants. It is always exciting to see the newest batch of seedlings maturing and coming into flower with new and unique combinations of colour and pattern. I get a thrill from seeing some of my plants appearing in new markets around the world and hearing people's views of them.
My greatest success was winning the inaugural 'RHS Chelsea Plant of the Year' in 2010, and then going on to receive the 'Reginald Cory Memorial Cup' for plant breeding from the Royal Horticultural Society in 2016.
There will always be challenges - build up a network of like-minded people around you to help solve problems – and be prepared to help others in return. If you always try your best and are prepared to be adaptable you will be able to work through most problems".