Masterclass
Tyfu Cymru Professional Development Programme aims to future proof the horticulture industry in Wales.
Eligible businesses will gain access to a tailored programme including masterclasses and leadership coaching delivered by Tyfu Cymru and our network of sector specialists.
Designed for Welsh horticulture businesses with growth potential, the Professional Development Programme supports Welsh Government objectives for rural regeneration through the innovative and sustainable development of the horticulture industry in Wales.
Entry requirements
You should be a horticulture business located within Wales that has been operational for at least 2 years. Or a new horticulture business with ambitious growth plans.
Your commitment
Every business is expected to participate in approximately 5 learning modules and provide evidence for how they will apply this learning in their business.
The outcome of the programme is focussed on the benefit to the business and the programme is designed to allow different individuals from participating businesses to undertake different modules at different times.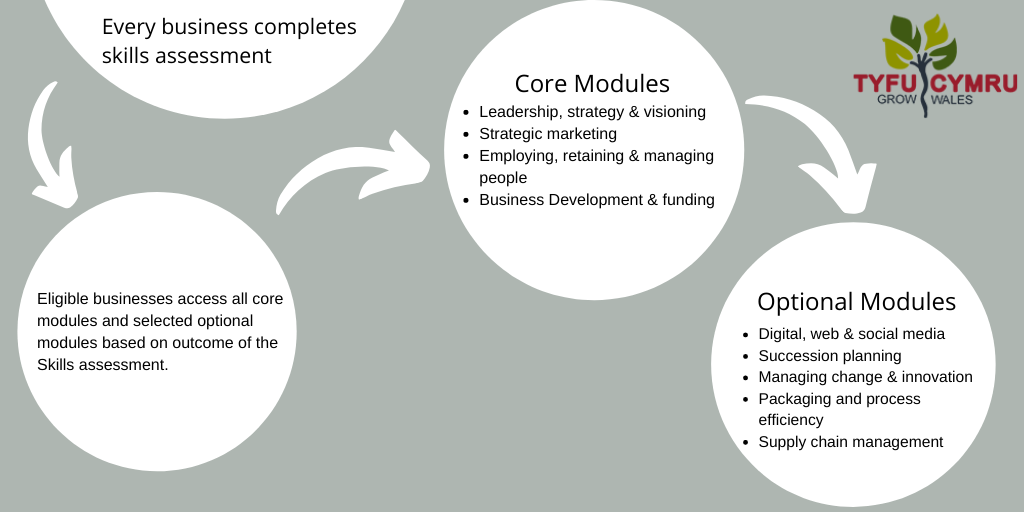 Learning outcomes
think strategically and creatively about your business practices
build and engage in working relationships that make for effective business management
make ethical business decisions with respect to people and the environment
use sound methods to research new products and markets
prepare or modify plans to manage risk and uncertainty in your business


Learning approach

Every eligible business will receive a skills assessment by Tyfu Cymru, prior to beginning the programme, and receive a tailored package of learning modules based on their specific needs. These will be delivered via a rolling programme of masterclasses, site visits and webinars (1 per module) with follow up work to complete each module.


Key features

Builds a range of commercial skills for horticulture
Offers a flexible programme to suit individual business needs
Provides masterclasses, site visits and webinars delivered by specialists
Gives access to a pool of leadership coaches, mentors and an online forum


On completion
Businesses that complete the programme will be invited to Lantra annual awards ceremony.
Successful completion of the modules will award each business with a certificate of professional development, whilst every individual will receive a certificate of attendance.